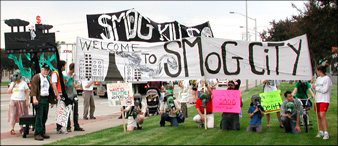 Anti-Smog Action Plan for the City of Windsor
On July 28, 1998, the Citizens Environment Alliance (CEA) proposed the following anti-smog action plan for the City of Windsor and its departments.....

The Citizens Environment Alliance is inviting the City of Windsor to take leadership in fighting air pollution in our community. A strong anti-smog plan is key. To combat smog the City of Windsor and its departments must.....
Suspend road paving during smog days. This anti-smog provision could be included in all private contracts for paving.
Suspend city activities requiring gasoline powered Parks equipment on smog days. (A lawn mower contributes 11.5 times more smog related pollutants than does a car; a leaf blower pollutes 35 times more).
On smog days, suspend the use of oil based paints, solvents, cleaners and other products that release volatile organic compounds (VOCs).
Demand tighter restrictions on industrial point sources of smog, including factories, recycling facilities, dry cleaning facilities, paint and body shops, local foundries, and others.
Suspend pesticide/herbicide spraying during smog days.
Implement an idling bylaw and encourage surrounding communities to follow.
Set up a local Air Quality Office to provide the community with updates on our air quality and suggestions for avoiding smog creating activities, especially during smog alert days.
Consider road closures during smog days while working with Transit Windsor to develop contingency plans. This could help highlight alternatives to the automobile.
Implement a program to educate city employees about smog, its effects, and what they can do to reduce their contribution to smog.
Establish a "Dirty Diesel Hotline" where residents can report belching fumes from tractor trailers and other diesel vehicles such as city buses and delivery trucks.
Promote a corporate smog reduction program and challenge all industries and businesses to sign on.
Commit support to the promotion of water taxi services between Windsor and such places as Ohio, western Michigan, and the Lake St. Clair region.
Commit to the elimination of truck traffic in the Detroit-Windsor tunnel.
Commit to purchasing 25% of municipal electricity from green sources such as wind turbine, solar, fuel cells and cogeneration* (*there are five cogeneration plants in Windsor-- University of Windsor, West Windsor Power, Casino Windsor, Ford Motor and Chrysler Canada. These plants burn natural gas which is also a greenhouse gas contributor, but has a lower carbon content, and is considered an interim solution to replace high carbon sources such as coal.)
Commit to starting a ferry service between Detroit and Windsor which will help eliminate automobile congestion in the tunnel and streets of Windsor.
Provide health warnings that would help citizens recognize smog induced symptoms. Ask the Windsor & District Labour Council and other organizations to help by distributing information about air pollution and health to local unions and other organizations.
Suspend gasoline re-fueling (delay essential re-fueling until evening hours) on smog days.
---
Statements Regarding Air Quality

Health Canada estimates that sixteen thousand Canadians die prematurely each year from the effects of air pollution. Many of the premature deaths are caused by fine particulates, ground level ozone (smog) and other pollutants inhaled deep into the lungs.

Air pollution also increases emergency room visits, and cardiac and respiratory hospital admissions.

A recent Canadian study concluded that there is no safe level of human exposure to ground level ozone (smog).

Besides affecting human health, smog damages vegetation and decreases the productivity of some crops, it can injure flowers and shrubs and may be contributing to forest decline in Canada.

-Environment Canada
---
"As a physician and advocate for the health of the citizens of Windsor and Essex County, I feel strongly that the massive weight of medical experience and scientific evidence propels us to take urgent action to prevent further deterioration of our environment."

"Please support this effort (the CEA anti-smog action plan) to provide what protection we can for the children and elderly of our community against the pervasive deleterious effects of airborne poisons. Everyone in our county deserves to breathe cleaner air!"

-Thomas J. Barnard, M.D., Former President of the Essex County Medical Society
---
"The kinds of actions that are possible at the local level can have a significant positive impact on local and regional air quality.

Municipal governments have the authority to control their own operations and property. [They] also have authority to control the terms of their contracts. If conditions are imposed uniformly on all contractors, they are enforceable.

Most importantly, municipal governments can have a significant influence on other employers, agencies, and organizations in the community. Their ability to inspire, challenge and encourage others to higher standards should not be underestimated."

-The University of Windsor's Great Lakes Institute for Environmental Research (GLIER) Anti-Smog Action Report, March 6, 2000
---
Challenging the Monroe Power Plant's proposal to burn petcoke
CEA challenges modification of DTE's Monroe Power Plant Operating Permit. A modification where they seek permission to burn sub-bituminous coal and petcoke.

May 12, 2010: CEA submission challenges permit modification for DTE's Monroe Power Plant
---
Challenging the Renewable Operating Permit for the Greater Detroit Resource Recovery Facility
The CEA challenges the renewable operating permit for the Greater Detroit Resource Recovery Facility, also known as the Detroit Incinerator

May 11, 2010: CEA letter challenges permit for GDRRF

June 14, 2011: Michigan Department of Environmental Quality response letter
---
Energy and Climate Change

Hundreds of Thousands of Canadians Call for Urgent Action on Climate Change

On the opening day of the Copenhagen Climate Summit, 152,843 Canadians have signed the KYOTOplus petition and 120 organizations have called for a sustainable Canada. On the same day as the presentation of the KYOTOplus petitions in Copenhagen over 10 million petition signatures from the Tck Tck Tck campaign were delivered to United Nations representatives.
KYOTOplus calls on the Canadian government to set a national target to cut greenhouse gas emissions at least 25 percent from 1990 levels by 2020 and to implement an effective national plan to reach this target. The petition also calls for Canada to help developing countries to reduce their emissions and adapt to climate change.

Rally for Action on Climate Change



Saturday, November 28th, 2009 - Guest Speakers: Hon. Joe Comartin, MP for Windsor-Tecumseh, Hon. Brian Masse, MP for Windsor West help send a message to the Federal Government supporting action on climate change.

Open Letter Supporting the Copenhagen Climate Bill (October 2009)

Comments on the Green Energy and Green Economy Act (Bill 150) (April 2009)

Comments on the Environmental Assessment of the Proposed Life-Extension of the Pickering B Nuclear Station (November 2008)
---
Transportation

Statement to Governor Granholm and the Michigan Legislature (September 2009)

Comments on DRIC Environmental Assessment (August 2009)

Comments on DRIC Environmental Assessment (May 2009)

Comments on DRIC Environmental Impact Statement (May 2008)

CEA Supports National Campaign to Improve Vehicle Efficiency: read the ENGO consolidated report (March 2008)
---
Smog Action

Windsor - Essex County Air Quality Action Plan Report Card (2003)

Windsor - Essex County Air Quality Action Plan Report Card (2002)

Windsor - Essex County Air Quality Action Plan Report Card (2001)

Windsor Air Quality Action Plan Report Card (2000)