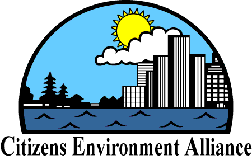 January 23, 2002
FOR IMMEDIATE RELEASE
CAW to Negotiate Mercury Elimination
Windsor, Ontario - Cathy Walker, CAW National Director of Health and Safety, at a public meeting hosted by the Canadian Auto Workers (CAW) on January 17, 2002, announced that her Union would put the issue of the elimination of mercury in convenience lighting switches in automobiles on the bargaining table this fall.
Mercury is a potent toxic chemical that causes brain, lung and kidney damage in humans. The substance has been used in switches for hood and trunk convenience lighting, and in other devices, becoming a contaminant when vehicles are scrapped.
Automobiles are one of North America's largest sources of toxic mercury emissions.
"This is a big achievement in the effort to have mercury eliminated from automobiles," said Shawn Hupka, President of the Citizens Environment Alliance. Hupka challenged the CAW to negotiate an end to the use of mercury in convenience lighting switches in automobiles built by CAW members, prompting Ms. Walker's announcement.
"Good for the CAW. They're taking a leadership role on this issue. I think this will hasten the total elimination of mercury from all cars manufactured in North America," continued Hupka.
Based on the industry's own estimates for quantities used in vehicles in 1995, approximately ten tons of mercury annually is unaccounted for; it is likely emitted when vehicles are scrapped or recycled.
Convenience lighting switches in automobiles contain a mercury bubble that activates the light switch as the hood or trunk lid is opened. According to researchers at the Clean Car Campaign (http://www.cleancarcampaign.org/mercury.html), a switch activated by a ball bearing will do the job just as well, at a cost of about 8 to 10 cents more.
For more information contact:
Shawn Hupka
President, Citizens Environment Alliance
(519) 973-1116
---
Canadian Auto Workers(CAW) Council
Previous Resolution on Mercury
RESOLUTION ON THE ELIMINATION OF THE USE OF MERCURY IN AUTOMOBILES (April 2001)
WHEREAS: The production of switches and wiring in automobiles account for 110 tons of mercury (1999); and
WHEREAS: This is an increase in usage over the levels of 1990; and
WHEREAS: The known detriments to the health and well-being of human beings range from effects on the nervous system and the developing fetus, to other forms of mercury exposure that can damage organs; and
WHEREAS: At low levels, mercury can begin to cause harm before symptoms arise. Mercury poisoning can include tremors, changes in vision or hearing, insomnia, weakness, difficulty with memory, headache, irritability, shyness and nervousness and a health condition called acrodynia; and
WHEREAS: Pregnant women and their fetuses are especially vulnerable to the toxic effects of metallic mercury because it readily passes from the placenta to the fetus.
THEREFORE BE IT RESOLVED: That CAW Council call upon automakers to eliminate the use of mercury in the manufacture of wiring and switches in their vehicles; and
BE IT FURTHER RESOLVED: That CAW Council call upon automakers to take the responsibility to remove and properly manage the disposal of mercury based switches and wiring and replace with safer alternatives of all current vehicles. Automobile manufacturers must disclose historical use of mercury in vehicles; and
BE IT FURTHER RESOLVED: That CAW Council call upon automakers to phase out other uses of mercury in vehicles on a time table comparable to the requirements outlined in the E.U.'s end of life vehicles directive; and
BE IT FINALLY RESOLVED: That until the complete elimination of the use of mercury - based products in automobiles is satisfied, all automakers shall label all new vehicles for mercury-based products, clearly identifying the vehicles, as well as the mercury-containing part.