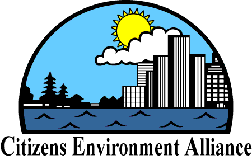 February 3, 2000
FOR IMMEDIATE RELEASE
Local Emissions of Pollutants in Windsor - Essex County on the Rise
Windsor, Ontario - Today the Citizens Environment Alliance of SW Ontario (CEA) released its annual analysis of emissions of pollutants to air, water and land of Windsor and Essex County. The study was developed by data collected by the 1997 National Pollutant Release Inventory (NPRI).
The 1997 NPRI is the fifth annual public report by Environment Canada. The report provides information on 176 substances, specifically on their releases to air, water, land and underground injection and off-site transfers for disposal and treatment from 1987 point sources (facilities) across Canada. The CEA study examines the local (Windsor-Essex) inventory and compares the data with the 1995 and 1996 reports. Its highlights include:
A total of 36 Windsor-Essex County facilities submitted reports to the NPRI in 1997, an increase of 2 from 1996 and an increase of 1 from 1995. 28 facilities reported in Windsor, 1 in Tecumseh, 2 in Amherstburg, 2 in Leamington, and 3 in Tilbury. There were 164 pollutant reports submitted by facilities in Windsor-Essex in 1997, an average of 4.6 pollutants per facility.
Facilities in Windsor-Essex County reported 42 pollutants to the 1997 NPRI, an increase of 23.5% over 1996. Facilities also reported 7 toxic/carcinogenic substances an increase of 1 (16.7%) over 1996.
The biggest increases in 1997 were to the air, a 21.3% increase over 1996. The largest off-site transfers were to incineration, a 263.6% increase over 1996. The top 5 polluters in the 1997 report were General Chemical, Philip Services, Zalev Brothers, Maple Roll Leaf, Windsor-West Pollution Control Plant. The top 5 in terms of on-site releases to the environment were General Chemical, Maple Roll Leaf, Windsor-West Pollution Control Plant, Chrysler-Pillette Road Plant, and Chrysler-Windsor Assembly Plant. The three pollutants released in the largest quantities in Windsor-Essex in 1997 were ammonia (total), methyl ethyl ketone, and methanol. Two facilities dominated these releases: General Chemical, ammonia (total); and, Maple Roll Leaf Co., methyl ethyl ketone and methanol.
Overall, the combined total of on-site releases and off-site transfers of toxic/carcinogenic pollutants in 1997 was 191 tonnes, and increase of 64 tonnes (+50.2%) from 1996, and an increase of 89 tonnes (+87.8%) from 1995.
"There is little good news in this report for residents of Essex County," said Derek Coronado, author of the CEA report. "The pollution burden on Essex County's environment has continued to worsen, and that is unacceptable," said Coronado.
For more information contact:
Derek Coronado
Researcher, Citizens Environment Alliance
(519) 973-1116
---
View our full report - The CEA's Regional Analysis of the 1997 NPRI
View Environment Canada's NPRI Data
View The Windsor Star's February 5, 2000 article - Pollution trouble deepening: Study