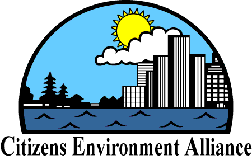 February 5, 2001
FOR IMMEDIATE RELEASE
CEA opposes Heritage River Designation for the Detroit River
Windsor, Ontario -
"Conservation Authority doesn't respect public participation."
In a letter to Don Gibson, the Chair of Canadian Heritage Rivers System (CHRS) board, dated February 2, 2001, the Citizens Environment Alliance (CEA) urged Heritage River designation be rejected for the Detroit River.
"The Management Strategy proposed for the Detroit River through the Heritage River programme has serious flaws: insignificant environmental value; insufficient public involvement and ownership of the process; and poor accountability and transparency within the Management Strategy. Indeed, our concerns extend to the nomination of the Detroit River as a Heritage River," wrote Shawn Hupka, CEA President.
The Canadian Heritage Rivers System board of directors are scheduled to meet February 5th and 6th to consider Heritage status for several nominated rivers in Canada, including the Detroit River. On their web page, the Canadian Heritage Rivers System states, "With designation comes a commitment by the managing governments to work with 'stakeholders' of a river - residents, local governments, landowners, businesses, aboriginal groups and other interested parties - to carry out certain actions contained in a management strategy."
Yet, the Essex Region Conservation Authority Management Strategy reads differently, "The Detroit River Council will initially include senior political representatives of local/municipal governments."
CEA researcher Derek Coronado is concerned,
"The Detroit River remains one of the most polluted waterways in North America. There already exists a formal programme to restore the Detroit River through the Remedial Action Plan (RAP) required in the Great Lakes Water Quality Agreement.
"The CEA has been an active participant in the Remedial Action Plan (RAP) process for the Detroit River since its inception. The RAP is far from perfect, but it does allow a modicum of meaningful public participation in the environmental renewal of the Detroit River Area of Concern.
"Unfortunately, one of the over-arching actions of the Conservation Authority's Management Strategy is the establishment of the Detroit River Council. This Council will be exclusively composed of local politicians. There is no mention of when or if this Council will admit other stakeholders. Obviously, public involvement in this aspect of the Management Strategy is restricted.
"It has taken many years for politicians and government agencies to learn the imperatives of RAP progress. The Conservation Authority's Management Strategy represents a throwback to the traditional method of resource management: experts and officials discussing resource values, policies and alternative futures without meaningful public participation. Meaningful public participation requires listening, learning, discussing and developing a plan together with all interested citizens," Coronado concluded.
The CEA's letter to the Don Gibson closed with these comments,
"As the Detroit River Management Strategy fails to address the restoration of the Detroit River Area of Concern in any meaningful way, we propose that the Management Strategy, and therefore Heritage River designation, be rejected. Our community will be better served if public funds are dedicated to pollution elimination and remediation efforts through publicly accessible organizations."
For more information contact
(or for a copy of the Citizens Environment Alliance letter to the CHRS board) :
Shawn Hupka
President, Citizens Environment Alliance
(519) 973-1116