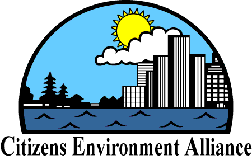 February 15, 2002
FOR IMMEDIATE RELEASE
Citizens Environment Alliance opposes Brighton Beach Power Station
Windsor, Ontario -
In separate letters, the Citizens Environment Alliance (CEA) has appealed to both the Provincial and Federal Governments to intervene to stop the construction of the proposed Brighton Beach Power Station.
In a letter to the Environmental Assessment and Approvals Branch of the Ontario Ministry of the Environment CEA President Shawn Hupka wrote, "It is incumbent on the Ontario Ministry of Environment to insist on a full Environmental Assessment, so that the true impacts of this proposed project can be determined. Once that is possible, we believe that the project will be cancelled."
In a subsequent letter to Johanne Gélinas, the Federal Commissioner of the Environment and Sustainable Development CEA President Shawn Hupka wrote, "…this project should be reviewed by appropriate federal agencies." The letter continued, "…the Government of Canada, under the Great Lakes Water Quality Agreement, has a responsibility to clean up and restore the ecological well-being of the Detroit River Area of Concern. The proposed Brighton Beach Power Station will lead us in the other direction."
"With so much public discussion on the need to address Windsor's health problems, the time has come for a moratorium on polluting development," said Hupka.
Brighton Beach Power, a joint venture of ATCO Power and Ontario Power Generation is planning to build a 580 MW combined-cycle natural gas electricity generating plant on the shore of the Detroit River. More information about Brighton Beach Power is available at http://www.brightonbeachpower.ca/.
For more information contact:
Shawn Hupka
President, Citizens Environment Alliance
(519) 973-1116
Kelly Scott
ATCO Power Canada Ltd.
(866) 839-6958