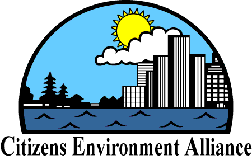 April 5, 2001
FOR IMMEDIATE RELEASE
Ojibway Shores - Black Oak Woods - Brighton Beach: Exploring Options For Community Action
Windsor, Ontario - The Citizens Environment Alliance and Local 444 CAW Environment Committee are teaming up to host a public meeting to explore options for community action to ensure long-term protection of the Black Oak Woods Heritage Park / Ojibway Shores ecosystem.
The City of Windsor's plan to develop heavy industry in the Brighton Beach area compromises the sustainability of the Black Oak Heritage Park, Ojibway Park, and the Spring Garden Area of Scientific and Natural Interest.
It is time for our community to come together to discuss how we will reclaim Windsor's last natural shoreline on the Detroit River, and ensure it remains healthy for the benefit of future generations.
"Windsor City Council's decision to zone the entire Brighton Beach area heavy industrial results in Black Oak Woods Heritage Park becoming another island of green surrounded by concrete and polluting industries" said Rob Spring, chairperson of the Local 444 CAW Environment Committee. "The few natural spaces left inside the boundaries of Windsor will not survive for future generations to enjoy if we keep disconnecting them from the rest of the natural world!"
Shawn Hupka, president of the Citizens Environment Alliance agrees. "The CEA has collected over one thousand signatures asking the Federal Government to protect Ojibway Shores. Without a natural link to the river, the biodiversity of that region will be further threatened."
Hupka goes on to state, "If the federal, provincial and municipal governments are as serious about cleaning up the Detroit River as they claim to be, they will work with communities to ensure protection for publiclly-owned areas like Ojibway Shores."
The area in question, Ojibway Shores, is owned by the federal government and administeres by the Windsor Port Authority. It is 426 Metres of soft shoreline. The City of Windsor also owns a woodlot adjacent to the Port Authority property. Both properties are currently zoned heavy industrial.
On April 25, at 7:00 PM, we will provide an opportunity for people to come together and participate in building our community strategy. Everyone interested in this issue is encouraged to join us at Mackenzie Hall and be heard. Our community has successfully joined together and protected this area before. There is no reason, that with a groundswell of community support, we could not be successful again!
We only have one planet - it is our responsibility to protect it!
For more information contact:
Shawn Hupka
President, Citizens Environment Alliance
(519) 973-1116

Rob Spring
Chairperson, Local 444 CAW Environment Committee
(519) 566-2823