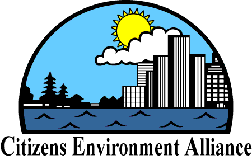 April 15, 2002
FOR IMMEDIATE RELEASE
CEA calls on Chamber of Commerce to endorse Kyoto Protocol
Windsor, Ontario -
The Citizens Environment Alliance wants the local Chamber of Commerce to break from its parent organization on the climate change issue.
"The Canadian Chamber of Commerce recently took the unfortunate position that Canadian ratification of the Kyoto Protocol would be foolish. What would be foolish is to ignore the science behind climate change and not ratify this important international treaty," said Shawn Hupka, Executive Coordinator of the Citizens Environment Alliance.
Hupka noted that Windsor City Council recently endorsed ratification of the Kyoto Protocol, adding Windsor to a growing list of Canadian municipalities supporting ratification of the Protocol to reduce greenhouse gas emissions.
"Almost 80% of Canadians favour the ratification of the Kyoto; rightly understanding that climate change is a serious threat to the survival of the planet. Europe and the rest of the world, hold the USA, are behind the agreement. It is time Canada follow suit," added Hupka. "I believe that the Windsor and District Chamber of Commerce could send an important signal to industry and government that the ratification of the Kyoto Protocol is necessary and just."
The Standing Committee on the Environment meet on Monday, April 15, 2002. The full Chamber Board of Directors meet on Monday, April 22, 2002.
For more information contact:
Shawn Hupka
President, Citizens Environment Alliance
(519) 973-1116
Jim Drummond
Chair of the Chamber's Environment Standing Committee
(519) 250-3733
Linda E. Smith
President of Windsor and District Chamber of Commerce
(519) 966-3696