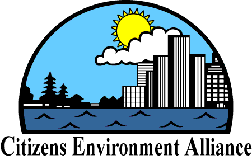 May 1, 2003
FOR IMMEDIATE RELEASE
1st SMOGFEST EVENT: Movie Night at Room with a Cue, Wed, May 7 beginning at 7 pm!
Windsor, Ontario - The Citizens Environment Alliance is set to launch its second annual Smogfest with a Movie Night at Room with a Cue. This event will take place on Wednesday May 7, 2003 and features two movies: Blue Vinyl, a movie that looks at PVC siding, a toxic housing material and its human health and environmental impacts, and The Air We Breathe, a movie that looks at how we travel around our cities and its effect on the environment.
At 7:00 p.m., we will be showing Blue Vinyl, (96 mins)
Prompted by her fatherís use of polyvinylchoride (PVC) siding to cover their home, filmmaker Judith Helfand examines the process by which PVC siding is manufactured, used, and disposed of. Through her journey, she discovers that PVC siding is extremely harmful in its production and disposal. With an unusually effective blend of humor, horror and hope, the film explores the impacts on human health and the environment of the vinyl manufacturing industry. The film is directed and produced by Judith Helfand and Dan Gold and won the Documentary Award for Excellence in Cinematography at the 2002 Sundance Film Festival.
At 8:45 p.m., itís The Air We Breathe, (48 mins)
The Air We Breathe takes an incisive look at how certain political choices and socio-cultural forces have led to the growing crisis of air pollution and what steps certain cities are taking down the path for a cleaner, less-polluting transit system. Exposing the underlying folly of the post-war suburban dream, The Air We Breathe examines our addiction to the automobile, the environmental consequences of urban sprawl, and the damaging effects of commuter culture on both the air and our overall quality of life.
Come out, enjoy the movies, and find out more about the month-long series of events that make up our second annual Smogfest. Find out how you can take part in events and actions to help clear the air and lose our title as the Smog Capital of Canada.
Admission is free. Donations are greatly appreciated. There will be lots of free popcorn and refreshments will be available. **This is a Smoke-Free event**
This event will take place at Room with a Cue, 255 Ouellette Avenue, Second Floor.
For more information contact:

Leesa Bringas
Director of Development and Administration,
Citizens Environment Alliance
(519) 973-1116