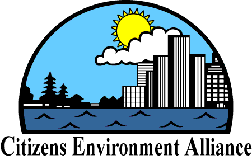 May 7, 2001
FOR IMMEDIATE RELEASE
The Future of Ojibway Shores
Windsor, Ontario - Windsor's last piece of natural shoreline, Ojibway Shores, is still scheduled for destruction. With over 16 hectares of woodlot, a marshy pond and 426 metres of natural Detroit River shoreline, Ojibway Shores is a ecological gem on an otherwise heavily developed Detroit River. Sadly, it is zoned for heavy industrial port use and its natural features and ecological benefits are threatened.
Ecologically, it's a very important piece of property. In its current state (it) acts as a wildlife linkage or corridor between the Detroit River and the interior significant sites of the Ojibway complex, Black Oak Woods, Ojibway Natural Heritage Site #37, and it contains a marsh, young woods dominated by pioneer species like Cottonwood, Elm and a large Poplar/Elm dominated swamp.
"The (...) port development plans for Windsorís last remaining piece of natural shoreline will turn the city's most important group of natural sanctuaries into isolated and ecologically threatened islands."
~ Dan Lebedyk, Essex Region Conservation Authority staff biologist, Fall 1998.
Ojibway Shores is owned by the Federal Government of Canada and is administered by the Windsor Port Authority. As part of their obligations under the Canada Marine Act, the Windsor Port Authority must hold at least one public meeting per year. That meeting is scheduled for May 31, 2001 at 4:30 p.m. It will take place at Willistead Manor, 1899 Niagara Street, Windsor.
Let's Make it Clear... We Want Ojibway Shores protected.
Spread the word about this important public meeting.
For more information contact:
Shawn Hupka
President, Citizens Environment Alliance
(519) 973-1116