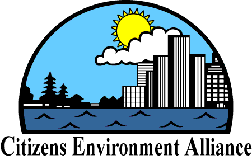 May 14, 2003
FOR IMMEDIATE RELEASE
CEA Congratulates Transit Windsor on Free Transit Rides During Smog Days
Windsor, Ontario - The Citizens Environment Alliance (CEA) welcomes Transit Windsor's commitment to providing free transit during smog days. Transit Windsor secured funding from Windsor City Council ($30,000) and Environment Canada ($30,000) to provide free transit during smog days throughout this year.
"The CEA has been an advocate for free public transit during smog days in Windsor for several years. We congratulate Transit Windsor on their efforts to secure funding for this important initiative," said Derek Coronado, Research and Policy Coordinator of the Citizens Environment Alliance.
Providing incentives to the public to use public transit is an important component in improving transit service and reducing the transportation sector's emissions of smog causing pollutants. The CEA has previously recommended free transit service during smog days in its annual Air Quality Report Card.
"Free public transit during smog days is just one small incentive to improve mass transit in Windsor and throughout Ontario. We need to have long-term funding from all levels of government to support and expand public transportation options in this province and country. Public transportation should be an essential component in any program to reduce air pollution and reduce the impacts of climate change," stated Coronado.
For more information contact:

Derek Coronado
Research and Policy Coordinator,
Citizens Environment Alliance
(519) 973-1116