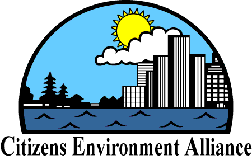 May 23, 2002
FOR IMMEDIATE RELEASE
Citizens Environment Alliance will Demand Protection for Ojibway Shores at Windsor Port Authority Annual Meeting - Thursday, June 6, 2002.
Windsor, Ontario -
The Citizens Environment Alliance is outraged that the Windsor Port Authority (WPA) intends to destroy Windsor's last undeveloped-natural area on the Detroit River. The WPA, a federally-mandated body, will be holding their Annual Meeting on Thursday, June 6, 2002; CEA members and staff will be there to signal support for the preservation of Ojibway Shores.
The meeting, at Windsor's Willistead Manor, (1899 Niagara Street) begins at 4:30 p.m.
The Windsor Port Authority has made it clear that they intend to pursue the destruction of this property, with or without public discussion or approval. David Cree, President & C.E.O. of the Windsor Port Authority told the Windsor Star, "Our intention is that property (Ojibway Shores) will be used for marine industrial use." (page A3 of the May 11, 2000 edition)
Ojibway Shores comprises more than 16 hectares of ecologically significant land on Windsor's west side. It's size is an ecological crucial feature, providing habitat for numerous rare plant species and tree cover for many migratory birds. It's geographic location is also significant in that it provides vital linkage with other natural areas in the region.
"In its current state (it) acts as a wildlife linkage or corridor between the Detroit River and the interior significant sites of the Ojibway complex - Black Oak Woods, Ojibway Site #37, and it contains a marsh, young woods dominated by pioneer species like Cottonwood, Elm and a large Poplar/Elm dominated swamp."
ERCA biologist Dan Lebedyk in a December 1998 interview with ROOM Magazine.
We must ensure that this land remains in its natural state. The Citizens Environment Alliance is calling for immediate action to protect the ecological integrity of Ojibway Shores. "Ojibway Shores is federal land. We need the federal government to intervene and protect this important piece of our natural heritage," said CEA Executive Coordinator Shawn Hupka.
For more information contact:
Shawn Hupka
President, Citizens Environment Alliance
(519) 973-1116