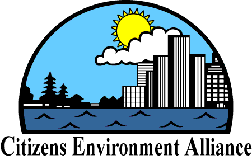 June 8, 2001
FOR IMMEDIATE RELEASE
Anti-Idling Bylaw Before Council June 11, 2001
Windsor, Ontario -
If adopted by Council, the proposed anti-idling bylaw will represent progress in the overall Air Quality Action Plan; the plan, passed in May 2000, recommended an anti-idling policy be established. Windsor would be joining Montreal, Toronto and London in having anti-idling policies that target the reduction of harmful air pollutants.
Vehicle emissions are a major source of air pollutants, including compounds that contribute to ground-level ozone (smog) and particulate matter. "Actions which reduce vehicle emissions are vital in any overall strategy to improve the poor air quality in our city", stated Frank Butler, the Citizens Environment Alliance representative to the Windsor Essex County Air Quality Committee. "This anti-idling bylaw is one such example." Butler, who has worked diligently to get the proposed bylaw before council, has received endorsements from several local organizations:
Citizens Environment Alliance
Windsor Environmental Advisory Committee
Windsor Essex County Air Quality Committee
Sandwich Community Health Centre
C.A.W. Windsor-Regional Environment Committee
Windsor Community Labour Central
As well as the enforcement of a idling bylaw the report recommends following the Greater Toronto Area lead in developing an education program that gets all drivers to cease this wasteful, harmful practice.
"It's time for Windsor to get on side with other progressive municipalities. The savings associated with this issues and the known impact on the health of all citizens, especially the most vulnerable members of our community must compel Council to endorse this initiative. An enforcement mandate in conjunction with a comprehensive educational component will deliver a strong message that needless idling will no longer be tolerated," Butler stated.
For more information contact:
Shawn Hupka
President, Citizens Environment Alliance
(519) 973-1116