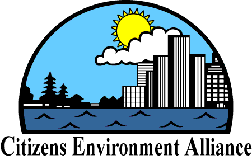 June 12, 2000
FOR IMMEDIATE RELEASE
City of Windsor Fails Important Air Quality Test
Windsor, Ontario - Four weeks ago today Windsor City Council unanimously passed an anti-smog action plan aimed at addressing Windsor's poor air quality. Recommended by the Windsor Essex County Air Quality Committee, the plan requires the City and its departments suspend a number of activities during high smog days.
Friday, June 9, 2000 was this region's first "ozone action day" according to the Southeast Michigan Coalition of Government's (SEMCOG) Ozone Action Network. That meant that the City of Windsor and its departments had a number of obligations and responsibilities under the anti-smog action plan.
Few, however, seemed to be aware of this fact on Thursday June 8, 2000 when Ozone Action issued a smog warning.
"Friday was the City of Windsor's first anti-smog action plan test. They failed miserably," said CEA spokesperson Shawn Hupka.
Join the CEA at our press conference in the CEA library (315 Pelissier Street, Windsor) today at 1pm to find out more about smog and Windsor's Anti-Smog Action Plan.
For more information contact:
Shawn Hupka
President, Citizens Environment Alliance
(519) 973-1116