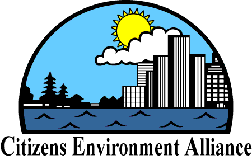 June 20, 2002
FOR IMMEDIATE RELEASE
Citizens Environment Alliance (CEA) Executive Director, Shawn Hupka, to travel to Toronto for Tomorrow's National Smog Summit
Windsor, Ontario -
Citizens Environment Alliance believe that governments must do more to ease the air pollution burden in southwestern Ontario, especially Windsor, the Smog Capital of Canada. CEA Executive Coordinator, Shawn Hupka is taking this message to Toronto for the third annual Smog Summit.
On Friday, June 21st, 2002, political representatives from all levels of government will gather to publicly sign an Intergovernmental Declaration on Clean Air, to report on progress made since last year's Summit, and to announce new initiatives for government action to reduce smog. This forum will be held in the CN Tower from 9am to 11am.
Specifically, CEA believe the following are necessary to begin addressing this region's poor air quality:
1. Environment Canada must open an office in Windsor or Essex County - Many health and environmental issues facing this region fall within federal jurisdiction (ex. transboundary air pollution). Environment Canada would better assist our communities in addressing environmental issues if they were doing it from Windsor or Essex, as opposed to Burlington or Toronto.
2. An International Transportation Strategy - Trucks, trucks, trucks: This seems to be the current transportation strategy of all levels of government on both sides of the border. According to the Canadian Consulate General in Detroit, 3.5 million trucks crossed the Detroit River on the Ambassador Bridge in 2001. Given current growth trends, there will be 6 million by 2012. Although this is entirely unsustainable and billions of dollars in public money are spent to subsidize the trucking industry, politicians keep talking about more highways, and more bridges for trucks. We need better transportation solutions than trucks, trucks, trucks!
3. Fund Public Transit - Windsorites and Transit Windsor riders are the sole source of revenue for our local public transit system. As a result, Transit Windsor riders have faced annual fee increases and reduced service. Public transit is better funded in many less-developed nations. The Government of Ontario and the Federal Government must start investing significant amounts of money to assist municipalities deliver efficient, affordable, and cleaner public transit. Since internal combustion engines are the biggest source of smog causing pollutants, governments need to support all initiatives that reduce or eliminate their usage.
4. Ontario must re-invest in the Ministry of the Environment - The Windsor office of the Ontario Ministry of the Environment was a District Office before it was downgraded to an Area Office in 1997. Its staff was cut in half from sixteen positions to eight. There was a fulltime air quality technologist until 1997; this position was cut. Contact with US counterparts was compromised. This year, the Michigan Department of Environmental Quality approved another incinerator for Detroit Michigan - less than 1 km from Windsor; the process went virtually undetected by the City of Windsor and the Province. If Windsor was upgraded to a District Office, it would be better able to serve the public and respond to complaints and problems.
Governments must work together to address environmental and public health issues. No significant effort has been made that addresses the already known disproportionate health problems in Windsor and Essex County. All governments must admit that there is a problem, admit that they have a role to play in establishing solutions, and commit to working cooperatively toward meaningful goals.
For more information contact:
Shawn Hupka
President, Citizens Environment Alliance
(519) 973-1116