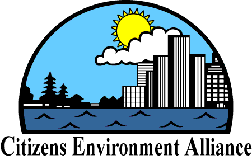 July 12, 2000
FOR IMMEDIATE RELEASE
CEA demands cleanup at Ojibway Shores
Windsor, Ontario - The CEA is calling on the Federal Government to cleanup its mess! In February, the Windsor Port Authority, a federally mandated body, dumped contaminated sediment in the Ojibway Industrial Site (Ojibway Shores). The dumped sediment dredged from the Riverside Marina contains mercury, cadmium, lead and TPH (gas/diesel) and lies some 100 to 200 metres from the shores of the Detroit River. CEA consultant, Dr. Dave Dolan, believes action is necessary, "... it seems that, at a minimum, they should contain the dredgings that they dumped at Ojibway Shores or one heavy rain will wash them back into the river. Their actions are counter to the goals of cleaning up the river. Ideally, if they want to help the process, they should dispose of their contaminated dredgings properly."
To view the Windsor Port Authority's Proposed Dredge Material Sampling and Analyses report visit the CEA web site on Friday at noon (http://www.mnsi.net/~cea) or call for a faxed copy (519) 973-1116.
Join CEA President Shawn Hupka and Dr. Dave Dolan at our press conference on Friday July 14, 2000 at 1:30pm in the CEA library.
For more information contact:
Shawn Hupka
President, Citizens Environment Alliance
(519) 973-1116