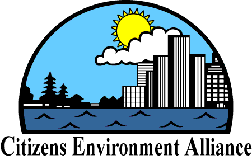 August 19, 2002
FOR IMMEDIATE RELEASE
5th Annual State of the Detroit River Boat Tour
Windsor, Ontario -
The Citizens Environment Alliance (CEA) Fifth Annual State of the River Boat Tour is on Saturday, September 21, 2002. Boarding at the foot of Ouellette Avenue in downtown Windsor at 11:30am, we will travel for four hours on the Detroit River. Tickets are $25US or $35Cdn
We are pleased to have Detroit-radio personality Peter Werbe back as the Master of Ceremonies for the Fifth Annual State of the Detroit River Boat Tour. Also joining us this year are:
Ronald Rossmann, Associate Editor with the Journal for Great Lakes Research and a Research Chemist with the U.S. Environmental Protection Agency in Grosse Ile, Michigan. Dr. Rossmann will discuss water quality and sediment quality in the Trenton Channel of the Detroit.
John Wanska, Assistant Director of the Natural Resources and Environment Team (Chicago Field Office) of the General Accounting Office of the United States Congress. Mr. Wanska participated in researching and writing the recently published report, EPA Needs to Define Organizational Responsibilities Better for Effective Oversight and Cleanup of Contaminated Areas, and will discuss the research and recommendations of that report.
A senior researcher from the Office of the Commissioner of the Environment and Sustainable Development, Canada. The discussion will focus on the Commissioner's 2001 report to the House of Commons which focused on Federal efforts to cleanup and restore the Great Lakes.
Gail Krantzberg, recently appointed Director of the International Joint Commission's Great Lakes Regional Office in Windsor, Ontario. Dr. Krantzberg will discuss the need for sound scientific monitoring, accurate reporting and the importance of working with community groups in the Great Lakes' Areas of Concern. An ecotoxicologist biologist, Dr. Krantzberg played a key role in the development and implementation of the Remedial Action Plan that led to the restoration of Collingwood Harbor, the only area of concern in the Great Lakes that has been cleaned up to the point where it was taken off the list of contaminated areas in the Great Lakes basin.
Tickets are $25US or $35Cdn and include lunch and the four-hour cruise of the Detroit River. This an excellent opportunity to learn more about this special river and the need to begin real and meaningful environmental restoration and rehabilitation. Join us.
For more information contact:
Citizens Environment Alliance
(519) 973-1116