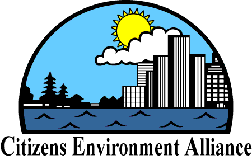 September 5, 2001
FOR IMMEDIATE RELEASE
Local Environmental Group welcomes appointment of IJC Director
Windsor, Ontario - The Citizens Environment Alliance of Southwestern Ontario welcomes the appointment of Dr. Gail Krantzberg as Director of the International Joint Commission (IJC) Great Lakes Regional Office in Windsor, Ontario.
Dr. Krantzberg is a Great Lakes scientist who recognizes the need for scientific monitoring and accurate reporting throughout the basin. Dr. Krantzberg understands the importance of working with community groups in the Great Lakes' Areas of Concern (most polluted areas) as she did in Collingwood Harbour with the Collingwood Harbour Remedial Action Plan (RAP).
Dr. Krantzberg will also be a guest speaker on the CEA's Fourth Annual Boat Tour of the Detroit River. The tour starts at noon on Saturday, September 22, 2001. Tickets are still available.
The Detroit River will be a challenge for her expertise and commitment in what can only be described as an ongoing dereliction of duty; governments on both sides continue to dismiss and downplay the need to clean up one of North America's most polluted waterways.
Historically, the IJC Great Lakes Regional Office in Windsor played a significant role in the technical review of government plans to clean up the Great Lakes. Recently, because of weak management and inadequate expertise at the Windsor Regional Office, IJC involvement in Great Lakes Restoration programs has been little more than negligible.
"With so many problems and so many government agencies, the planning and implementation of the clean up for the Detroit River is clearly one of the most complex in the Great Lakes basin," commented Shawn Hupka, President of the Citizens Environment Alliance. "Yet, partly because of the IJC's failure to fulfill its 'watchdog' role, it is now a symbol of public frustration with government inaction in the Great Lakes."
"The CEA anticipates that Dr. Krantzberg will reinvigorate Windsor's Regional Office and work to bring measurable environmental benefits for the Detroit River," said Lisa Tulen, Vice President of the CEA. "The IJC needs to once again play an active role in cleaning up the Detroit River which is in the Regional Office's backyard."
The IJC Great Lakes Regional Office is located at the corner of Ouellette Avenue and Riverside Drive in downtown Windsor... less than 100 metres from the river.
The Citizens Environment Alliance (CEA) is a non-profit, grass roots, bi-national, education and research organization. The CEA has been involved in the Remedial Action Plan process to clean up of the Detroit River since it began in 1986.
For more information contact:
Shawn Hupka
President, Citizens Environment Alliance
(519) 973-1116