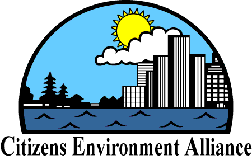 September 16, 1998
FOR IMMEDIATE RELEASE
CEA Predicts More Smog, Noise and Congestion with New Chrysler Head Quarters
Windsor, Ontario - The Citizens Environment Alliance (CEA) is predicting more smog, noise and congestion with the new Chrysler Norwich block development. "Without a specific transportation policy for downtown Windsor, the new development could create a nightmare for people who work and live downtown," says Rick Coronado, Research Coordinator for the CEA. He also stated that, "the Casino is creating traffic problems in the downtown and complete congestion on weekends and during rush hour."
There are no specific plans in the new transportation section of the City's official plan to deal with air quality problems, traffic congestion, and noise from new downtown development.
The CEA is suggesting that if Chrysler wants a monument to corporate vanity across from the GM World Head Quarters on the Detroit River, then they should form a partnership with the City and the public. They should devise a plan for a new, efficient and mass public transportation system to go along with their public image as a major producer of cars and trucks.
"If Daimler-Benz were to suggest a new corporate HQ in a downtown German city, an efficient public transit system would be demanded by the municipality and the public," speculated Coronado.
The CEA has several recommendations:
In order to alleviate increased smog in downtown Windsor, seek clean, mass transit for people who will be commuting to downtown Windsor from outlying areas. For example, the Ballard Fuel Cell Bus, Bombardier electrified rail, etc.;
The Ballard Co, of Vancouver, with major investment from Daimler-Benz, is now producing a 75 seat passenger bus. Chrysler and the City could invite them to demonstrate their clean, smog free, transportation unit;
The City, over the years, has periodically entertained ideas of an electrified rail system. Remember, Windsor was the first city in North America with an electrified rail system in the 1890s. This would enhance the flow of people to and from the Casino, the new Chrysler office complex and the western-super-anchor of the downtown which may be developed into family entertainment such as an arena, etc.;
Chrysler employees should be encouraged to park at the present location of Chrysler and then ride Public Transit downtown. Another idea is to use Casino shuttle vans to bring Chrysler employees from parking areas to the new downtown office.
Unless traffic and transportation issues are addressed quickly, the CEA is predicting more problems for the new Windsor Air Quality Committee to address, and fewer resources to rectify problems. Chrysler should be working with the City on these issues before the new building is developed rather than ignoring environmental and health problems that will result after it is finished.
For more information contact:

Ric Coronado
Research Coordinator,
Citizens Environment Alliance
(519) 973-1116