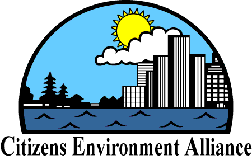 September 18, 2001
FOR IMMEDIATE RELEASE
Second Annual World Car-free day
Windsor, Ontario -
The Citizens Environment Alliance has the perfect solution for the traffic congestion currently plaguing Windsor and Detroit: leave your car at home!
Ride your bike … take the bus … walk to work.
"I ride my bike to work everyday," said CEA President Shawn Hupka. "Lots of people could walk or ride their bikes to work, school or shopping. It's great exercise, and it's good for the environment too."
The CEA is encouraging local residents to give up their cars for one day: World Car Free Day - Thursday, September 20, 2001.
"Environment Canada is forecasting mainly cloudy skies on Thursday with a low near 15 and a high near 22; perfect cycling weather," commented Hupka. "If folks can't walk or cycle to their destinations, public transit is another car-free alternative to driving."
Why World Car Free Day?
The average car emits a cocktail of more than 1,000 pollutants. Motor vehicles are the world's biggest source of atmospheric pollution, contributing an estimated 14% of the world's carbon dioxide emissions from fossil fuel burning, a proportion than is steadily rising.
Thursday is the second annual World Car-free day
For more information contact: http://www.carbusters.ecn.cz/Index.htm
For more information contact:
Shawn Hupka
President, Citizens Environment Alliance
(519) 973-1116