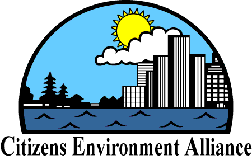 September 23, 2003
FOR IMMEDIATE RELEASE
Government Agencies Attempt to Eliminate Public Participation in the Detroit River Remedial Action Process
Windsor, Ontario - In a thinly disguised attempt at eliminating public participation in the Detroit River remedial action process, Environment Canada has called for a renewed management framework for the Detroit River Canadian Cleanup Committee (DRCCC). The framework proposal has the support of the Essex Region Conservation Authority and the tacit support of the Ontario Ministry of the Environment.
The proposal eliminates non-governmental organization positions on committees that determine remedial planning for the Detroit River. "There will be less transparency and accountability within the Detroit River RAP process if this proposal is adopted. Adopting this proposal will also destroy any goodwill the DRCCC has built within the local communities affected by the Detroit River RAP," stated Derek Coronado, Research and Policy Coordinator of the Citizens Environment Alliance.
Dr. Doug Haffner, Senior Research Chair in Great Lakes Environmental Health, Great Lakes Institute for Environmental Research, stated: "The recommendation of this report to decrease diversity on the committee, specifically to decrease participation of public and local research groups, will once again create the mistrust that killed the first RAP implementation process... It is a sad day when agencies and individuals responsible for environmental protection and conservation try to destroy an active group such as the DRCCC."
The DRCCC has scheduled a meeting to discuss Environment Canada's plan for the DRCCC.
DRCCC meeting: Tuesday, September 23, at 5:00pm in Room 250 of the Great Lakes Institute for Environmental Research (2990 Riverside Dr. West, beside Villa Maria)
For more information contact:

Derek Coronado
Research and Policy Coordinator,
Citizens Environment Alliance
(519) 973-1116