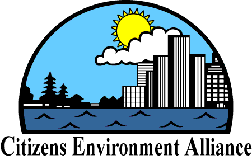 September 26, 2002
FOR IMMEDIATE RELEASE
Stop Hazardous Waste Incinerator In Ontario!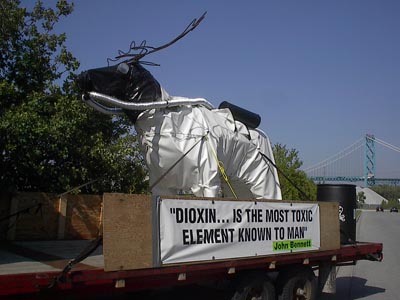 Windsor, Ontario - Mel, the Toxic Moose will be in Windsor Monday, September 30, 2002. Mel is the mascot of the Bennett Incinerator fight and has already logged thousands of kilometers in the fight against the Bennett incinerator proposal.
Bennett Environmental Inc. is proposing to site a hazardous waste incinerator in a residential area of Kirkland Lake, Ontario. Thousands of truckloads of hazardous waste will travel the roads of Ontario to feed the incinerator. According to company sources, 90% of the waste will come from outside Canada.
Bennett Environmental is seeking to take advantage of Ontario's lax Environmental Assessment rules and Canada's inadequate rules regarding the importation of hazardous waste. "There are very few restrictions to crossing the border... we can bring waste from anywhere. One contract we won based on price was in Mexico City," stated John Bennett, of Bennett Environmental Inc.
Hazardous waste incineration is a source of some of the most toxic air pollutants known, including dioxins, furans and mercury. Bennett operates an incinerator in Quebec that was cited by the regional health unit as a source of contaminants, including lead, mercury, cadmium, dioxins and furans, to the surrounding area.
"If this proposal is approved, it will undermine national and international efforts to eliminate emissions of dioxins and furans," said Derek Coronado of the Citizens Environment Alliance (CEA).
In addition to trucks crossing the border with loads of hazardous waste, the incinerator will also require trucks to remove toxic ash to secure landfills, such as the one in Sarnia. The addition of thousands of trucks to Ontario's roads will further degrade air quality in the province.
No public hearings have been planned under the Environmental Assessment process. Citizens of the Kirkland Lake area and the province have not been allowed to exercise the right to determine the safety of this toxic waste proposal.
Public Concern Temiskaming (PCT) is campaigning to stop the project and protect the citizens and environment of Ontario from being poisoned by the proposed Kirkland Lake hazardous waste incinerator.
Members of PCT, the CEA, and the handlers of Mel, will be at Mill Park, at the foot of Mill St. and corner of Russell St. at 3:00 p.m. Monday, September 30, 2002.
For further information contact:
Citizens Environment Alliance 519.973.1116
Public Concern Temiskaming 705.647.1533
Visit the Public Concern Temiskaming website: www.publicconcern.org