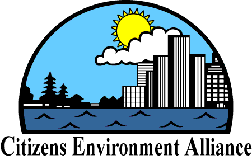 September 28, 1998
FOR IMMEDIATE RELEASE
Local Emissions of Pollutants in Windsor-Essex Buck National Trends
Windsor, Ontario - Today, the Citizens Environment Alliance of SW Ontario (CEA) has released an analysis of emissions of pollutants to air, water and land of Windsor and Essex County. The study was developed from data collected by the 1996 National Pollutant Release Inventory (NPRI).
The NPRI is a public inventory of 176 toxic substances released from 1,818 point sources across Canada. It is the fourth annual report released by Environment Canada. The CEA study examines the local (Windsor-Essex) inventory and compares the data with the 1995 report. Its highlights include:
Thirty-four local facilities reported to the NPRI in 1996. The combined total of on-site releases and off-site releases increased locally. The largest releases were to the air and the largest transfers were to landfills. The largest local polluters remained virtually the same in 1996. These were - General Chemical, Zalev Brothers, City of Windsor-West Windsor Pollution Control Plant, Chrysler-Windsor Assembly Plant, Ford Windsor Casting Plant. The Detroit River received the third highest amount of on-site releases to a water body in Canada. The largest chemical releases locally were: ammonia (total), Zinc (and its compounds), methyl ethyl ketone. The more facilities reported releases and/or transfers of toxic and carcinogenic pollutants than in 1995; and the combined total of on-site releases and off-site transfers of toxic and carcinogenic substances increased locally in 1996.
"The Windsor-Essex area does not compare well with national trends, Windsor-Essex is typical of Ontario. The NPRI revealed that Ontario's worsening pollution record coincided with the provincial government's lax 'voluntary compliance' agenda for protecting the environment and the downgrading of the Ministry of the Environment," said Derek Coronado, researcher with the Citizens Environment Alliance, and the author of the report.
The NPRI is the only national, publicly accessible inventory of pollutants in Canada. However, the NPRI is not comprehensive and provides only a minuscule picture of the total pollution problem in Canada. The 1996 report provides an extremely limited view of the pollution problem in Canada. As with other recent efforts of Environment Canada, the weakness of the 1996 NPRI can be traced to the petulant demands of industry.
This report examines NPRI data from Windsor-Essex County reports. It must be noted that the NPRI contains reports based upon a threshold that excludes vast quantities of pollution. Thus, according to Coronado, the data for Windsor-Essex should not be interpreted as a comprehensive pollutant inventory.
For more information contact:

Derek Coronado
Research Coordinator, Citizens Environment Alliance
(519) 973-1116