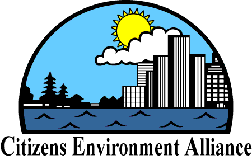 October 6, 2003
FOR IMMEDIATE RELEASE
Bike The Canard River Delta;
Hike On A Sidewalk Through The Woods
Windsor, Ontario - "Great tour! I liked exploring the wildlife and going on trails. I think you should do it next year... I'll be there." That was a typical comment from one of the participants in our first annual series of Fall Nature Tours. With that in mind, the Citizens Environment Alliance is pleased to once again play host to two fall tours on behalf of the Detroit River Canadian Cleanup Committee.
The Tour de River Canard will be a free guided bicycle tour of the lower Canard River watershed, to be held SATURDAY, OCTOBER 18, 2003. It will start at 11:00 a.m. from the Knights of Columbus Hall at 8965 Malden Road (just north of the River Canard bridge) in LaSalle. The tour will visit habitat restoration projects and offer views of provincially significant wetlands near the mouth of the river. Guest speakers will talk about the wildlife in the area and describe the progress being made to preserve and restore crucial habitats.
Among the experts who will accompany hikers:
Lisa Tulen, President, Citizens Environment Alliance: pointing out marshland rehabilitation projects on the Detroit River, at the mouth of the Canard.
Bert Harris, Friends of Ranta Park: speaking on opportunities for habitat restoration within the Ranta Park & Marina.
Kathryn Arthur, Restoration Biologist, Essex Region Conservation Authority: will conduct a visit to a site where private landowners have come together to create wetland and wooded habitats.
The route is approximately 18 kilometers long, on flat paved roads: suitable for all ages and any style of bike. Support vehicles will be on hand to ensure the safety of all riders.
Refreshments will be offered afterwards at the K of C hall. Please contact us about car-pooling: if you need a ride to the start point or if you have room in your vehicle.
----------
The Sidewalks of L.A. was our most popular tour last year. This year, we've added another bus to shuttle hikers between significant wooded areas in LaSalle and west Windsor. Once there, we'll walk on sidewalks which are all that remains of  an early 20th century scheme to build a huge steel mill in the old town of Ojibway.
This free guided tour takes place  SUNDAY, NOVEMBER 2, 2003, starting from South Windsor Arena, 2555 Pulford St. (near Huron Church Rd.) in Windsor. Hikers can register inside the arena starting at noon. Tours will continue until 4:00 p.m.
Among the experts who will accompany hikers:
Gerry Waldron, author of the just-released "Trees of the Carolinian Forest": who will share his vast knowledge of trees (and other creatures).
Larry Silani, MCIP, RPP; Director of Planning, Town of LaSalle, and Terry Fink, Director of Culture and Recreation, Town of LaSalle: who will describe recent progress in preserving green space and creating trails and linkages within the town.
Bill Nanson, Friends of Oakwood Bush: will point out the wildlife diversity of this significant natural area and describe what can be done to preserve and protect it.
The Citizens Environment Alliance is a non-profit, grass-roots education and research organization.  We are committed to an ecosystem approach to environmental planning and management.
For more information contact:

Mark Buckner
Natural Heritage Coordinator,
Citizens Environment Alliance
(519) 973-1116
ceatours@mdirect.net
---
Financial assistance for the Fall nature tours is provided by Environment Canada.