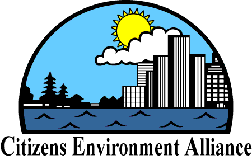 October 7, 2002
FOR IMMEDIATE RELEASE
Explore our natural heritage: Announcing FALL NATURE TOURS 2002!
Windsor, Ontario - The Citizens Environment Alliance invites everyone to join us for a hike in the woods - on an 80-year-old sidewalk. Or ride your bike over a bridge that looks like a boat. Or join with lots of other cyclists in a big ride along a little river. All this and more will be part of an upcoming series of fall nature tours.
This is a project of the Detroit River Canadian Cleanup Committee: the committee charged with the restoration of the Detroit River and its tributary watersheds.
The Citizens Environment Alliance is organizing three tours so that everyone may view the restoration efforts. Tour highlights will include wetlands enhancements, reforestation projects, and nature trails, as well as some of the major challenges facing a successful cleanup of the river. Naturalists, community activists and members of government agencies will be on hand to describe the projects and explain the vital connection between habitat restoration and a healthy environment.
SATURDAY OCTOBER 19, 2002 at 11am
Join us for the LITTLE RIVER BIG BIKE TOUR.
The tour starts at the Sand Point Beach parking lot, Riverside Dr East at Florence Ave. This will be a guided tour exploring the ever-expanding network of bike paths and trails throughout this east end green corridor. Guest speakers will be on hand to showcase habitat restoration and wildlife enhancement projects in the Little River watershed. There will be two routes, a leisurely 12 km., or a longer 25 km., for more ambitious riders. Refreshments to follow. Free.
SATURDAY, OCTOBER 26, 2002 at 11am
CYCLE THE TRAILS AND BRIDGES OF TURKEY CREEK
Meet at Zehrs, 5890 Malden Rd. at 11:00 a.m., in the community meeting room. View provincially significant wetlands; learn about local endangered species; ride over a boat-shaped bridge! A free guided bike tour of natural areas and parks along the Turkey Creek watershed, which straddles the Windsor/LaSalle border. This tour is about 2 hours long, or approximately 15 km. Refreshments will follow.
SUNDAY NOVEMBER 3, 2002 at 1pm
"THE SIDEWALKS OF L.A.": a walking tour!
Why are there sidewalks through the woods in parts of LaSalle and west Windsor? Join this guided hiking tour to see how long-ago plans for a major steel mill ironically led to the preservation of significant woodlands. Participants should gather at 1:00 p.m. at the South Windsor Arena, 2555 Pulford St. Buses will shuttle hikers between 3 natural areas. Tour guides will explain the history of these areas and point out some of the unique species and habitats. Experts will talk about how preserving and linking these areas can help restore the ecosystem health of the Detroit River watershed. Free.
Both bike tours will be accompanied by support vehicles to make sure no one is left behind and to take care of first aid and minor repairs. Riders should dress appropriately, in warm layered clothing. Helmets are strongly recommended. Please bring a water bottle. Water and refreshments will be provided. Riders under 18 must be accompanied by an adult.
Hikers should wear sturdy shoes or boots and appropriate layers of clothing. Bring a water bottle. Under 18 must be accompanied by an adult.
Sponsors of the Fall Nature Tours include the TD Friends of the Environment Foundation and Environment Canada. Information about the Detroit River Canadian Cleanup Committee can be found online at: www.drccc.info and on the Citizens Environment Alliance website is at: www.mnsi.net/~cea
For more information contact:

Mark Buckner
Citizens Environment Alliance
(519) 973-1116