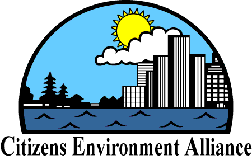 October 18, 2000
FOR IMMEDIATE RELEASE
CEA Releases Air Quality Report Card for Windsor
".disappointed in the lack of commitment to our air quality."
Windsor, Ontario - The Citizens Environment Alliance has released its Air Quality Action Plan Report Card on the City of Windsor's efforts at addressing air pollution. The Report is available on our web site in PDF format.
The CEA June 2000 "progress" report yielded nearly all failing grades. In this more comprehensive year-end report only a few grades have improved. The CEA is calling on Windsor City Council and Administration to allocate adequate resources so that departments can properly implement the provisions of the Air Quality Action Plan. The report finds that a paltry 10 cents per resident is being spent on improving the air; Ottawa spends almost twenty times that amount.
"I'm disappointed in the lack of commitment to our air quality. The current problem with the city of Windsor is systemic. Unless there are fundamental changes to the operating and decision-making practices of Council and Administration, air quality issues will continue to be inadequately addressed", stated Shawn Hupka, CEA President.
The Alliance will continue to address its concerns at the Windsor Essex County Air Quality Committee and has invited all City of Windsor candidates to a public forum on the environment. The forum will be held at Kennedy High School on November 1, 2000.
For more information contact:
Shawn Hupka
President, Citizens Environment Alliance
(519) 973-1116