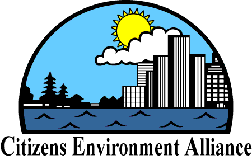 October 31, 2001
FOR IMMEDIATE RELEASE
CEA Releases Air Quality Report Card for Windsor - Essex County
Windsor, Ontario -
"….disappointed in the lack of commitment to our air quality."
The Citizens Environment Alliance has published its Second Annual Air Quality Action Plan Report Card on the City of Windsor and County of Essex's efforts at addressing air pollution. The ten-page Report Card is available at http://www.mnsi.net/~cea.
The report finds that a paltry 11 cents per resident is being spent on improving our air. Toronto spends seven times that amount, Vancouver twelve times our amount and Ottawa spends more than twenty times our amount.
Not surprisingly, the City and the County garnered 19 grades of F, 7 grades of D and 4 grades of C. Funding, pollution reduction strategies and evaluation are fundamental aspects of any anti-smog action plan. Regrettably, they are absent here. Funding allocated to WECAQC is controlled by Public Works-who have yet to show a commitment to clean air.
"I'm disappointed in the lack of commitment to our air quality. The current problem with the City of Windsor and the County is systemic. Unless there are fundamental changes to the operating and decision-making practices of both Councils and their Administrations, air quality issues will continue to be inadequately addressed", stated Shawn Hupka, CEA President.
"The CEA is considering resigning from the Windsor Essex County Air Quality Committee, a committee that we helped form over three years ago." stated Hupka. "Our decision will be announced at the next Air Quality Committee meeting."
The Air Quality Committee meets this Thursday November 1, 2001 at 7pm in Council Chambers at Windsor City Hall.
For more information contact:
Shawn Hupka
President, Citizens Environment Alliance
(519) 973-1116