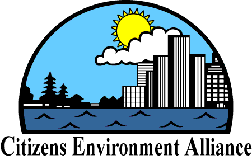 November 1, 2000
FOR IMMEDIATE RELEASE
CEA demands $1 Million Investment in Air Initiatives
Windsor, Ontario - The City of Windsor allocated only $20,000 (or approx. 10¢ per resident) this year to smog and greenhouse gas reduction measures, which is very little compared to other North American cities. According to the March 2000 report, Overview of Air Quality and Greenhouse Gas Emission Activities in the City of Toronto, prepared by the Toronto Atmospheric Fund for the City of Toronto Budget Advisory, Policy and Finance, and Works Committees, Toronto spends 77¢ (per capita), Vancouver $1.29, Ottawa $1.86, the San Francisco metro area $4.03, and the Los Angeles metro area $4.53.
"Clearly, air quality has not received due attention, which is the primary reason the City yielded many failing grades on its Air Quality Action Plan Report Card," commented CEA President Shawn Hupka. "When you consider that the City's Annual Operating budget is over 450 million dollars, $200,000.00 per year for the next five years is not unrealistic."
The money will be necessary to:
hire a full-time air quality co-ordinator
devise a plan with air pollution reduction targets and a firm implementation timeline;
increase the effectiveness of Windsor Air Quality Committee, and
actively encourage corporations and others to undertake anti-smog initiatives.
"If the City of Windsor is to effectively address our poor air quality, this will be a vital component in the plan," commented Hupka. "Investments in public transit, bicycle access and air quality monitoring will also be necessary," he conluded.
According to a study from the David Suzuki Foundation, 16,000 people die prematurely every year in Canada from the effects of air pollution, thousands more are hospitalized. With trends showing that the City of Windsor has the worst air pollution in all of Canada, air pollution is a very serious public health and environmental issue.
For more information contact:
Shawn Hupka
President, Citizens Environment Alliance
(519) 973-1116