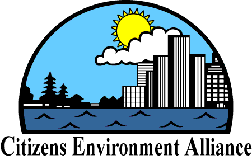 November 3, 2000
FOR IMMEDIATE RELEASE
Emissions of Pollutants in Windsor-Essex County Decrease, But Remain Well Above 1996 Levels
Windsor, Ontario - Today the Citizens Environment Alliance of SW Ontario (CEA) released its analysis of pollutant emissions to air, water and land of Windsor and Essex County. The study was developed by data collected from the1998 National Pollutant Release Inventory (NPRI).
The 1998 NPRI is the sixth annual public report by Environment Canada. The report provides information on 176 substances, specifically on their releases to air, water, land and underground injection and off-site transfers for disposal and treatment from 2007-point sources (facilities) across Canada. The CEA study examines the local (Windsor-Essex) inventory and compares the data with the 1996 and 1997 reports.
A total of 37 facilities from Essex County submitted reports to the NPRI in 1998, an increase of 1 (+2.8%) from 1997 and an increase of 3 (+8.8%) from 1996. 28 facilities reported in Windsor, 1 in Tecumseh, 1 in Oldcastle, 3 in Amherstburg, 1 in Leamington, and 3 in Tilbury. There were 167 pollutant reports submitted by facilities in Essex County in 1998, an average of 4.5 pollutants per facility. Facilities in Essex County reported 40 pollutants to the 1998 NPRI, including 7 toxic/carcinogenic substances, a change of -2 (-4.8%) and 0 from 1997, respectively. 1998 is the first year in which reporting recycling activities is mandatory.
In 1998 there were on-site releases of 3,414 tonnes, a decrease of 678 tonnes (-16.6%) from 1997 and a decrease of 177 tonnes (-4.9%) from 1996; off-site transfers totalled 3,354 tonnes, a decrease of 538 tonnes (-13.8%) from 1997 and an increase of 1,489 tonnes (+125.3%) from 1996; a combined total (release + transfer) of toxic/carcinogenic pollutants of 218 tonnes, an increase of 27 tonnes (+14.1%) from 1997 and an increase of 91 tonnes (+71.7%) from 1996. Off-site transfers for recycling totalled 5,173 tonnes.
The top 5 polluters in the 1998 report were General Chemical, Zalev Brothers, Maple Roll Leaf, Philip Services and Windsor-West Pollution Control Plant. The top 5 in terms of on-site releases to the environment were General Chemical, Maple Roll Leaf, Windsor-West Pollution Control Plant, Chrysler-Pillette Road Plant, and Chrysler-Windsor Assembly Plant. The three pollutants released in the largest quantities in Windsor-Essex in 1998 were ammonia (total), methyl ethyl ketone and toluene. Two facilities dominated these releases: General Chemical, ammonia (total) and Maple Roll Leaf, methyl ethyl ketone and toluene.
"There is little good news in this report for residents of Essex County," said Derek Coronado, author of the CEA report. "The pollution burden on Essex County's environment remains at an unacceptable level," said Coronado.
See the Summary Report of 1998 NPRI on our web site at www.mnsi.net/~cea
For more information contact:
Derek Coronado
Researcher, Citizens Environment Alliance
(519) 973-1116