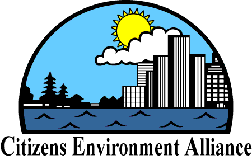 November 4, 2002
FOR IMMEDIATE RELEASE
Third Annual Smog Report Card:
City/County garner 23 "F"s - 5 "D"s - 2 "C"s
Windsor, Ontario - The Citizens Environment Alliance (CEA) has published its Third Annual Smog Report Card. The Report Card is available at http://www.mnsi.net/~cea.
"Both the City and County have been negligent in developing an implementation strategy for the Air Quality Action Plan. The lack of such a plan, with timetables and an annual report, has left the public without the information they require to assess the commitments made by their representatives," concludes Derek Coronado, Research and Policy Coordinator for the CEA.
"Although Transit Windsor has taken some positive initiatives and we're now seeing bicycle lanes on City streets, there is no overall plan to redress our air quality problems," states Shawn Hupka, Executive Director of the CEA. "In fact, many recent decisions will actually have a negative impact on our air."
The CEA points to Brighton Beach Power, which is building a new power plant in west Windsor. Although it will contribute smog-causing emissions to our local air, Windsor City Council encouraged the Province to approve construction - which has been granted.
In April 2002, the Clean Air section of Environment Canada's website stated, "The summer smog capital of Canada is Windsor, and it averages more than 30 smog advisory days a year."
The Report Card includes a number of recommendations for area municipalities, such as:
join the Federation of Canadian Municipalities' Partners for Climate Protection Programme;
demand that Environment Canada open an office in Windsor or Essex County;
demand that the Province re-invest in the Ministry of the Environment, especially locally;
devise an international transportation strategy with a view to alleviating air quality problems, and
spend public money on a public transit system that links the City and the County.
The full Report is available online CEA_2002_Smog_Action_Report_Card.pdf.
For more information, join Derek Coronado (CEA Research and Policy Coordinator) and Shawn Hupka (CEA Executive Coordinator) for a Press Conference at the Citizens Environment Alliance on Tuesday, November 5, 2002, at 2:00 p.m.