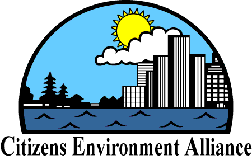 November 28, 2002
FOR IMMEDIATE RELEASE
Public Notice re: New Environmental Advisory Committee
Windsor, Ontario - The City of Windsor and the County of Essex are now seeking nominations for their new joint Environmental Advisory Committee. The Windsor Essex County Environment Committee (WECEC) is the working name for the committee that will likely begin meeting in early 2003. The new committee is intended to replace both the Windsor Environmental Advisory Committee and the Windsor Essex County Air Quality Committee neither of which has met since July.
They are seeking nominations from the following sectors
Health Care Service Providers
Education
Members of the Public
Organized Labour
Environmental Non-Government Organizations
Industry
Business
Submissions and recommendations will be forwarded to a Striking Committee consisting of Windsor City Councillor Alan Halberstadt, Kingsville Deputy Mayor Nelson Santos, a City Administrator and a County Administrator.
In a letter dated Thursday November 28, 2002, Ron Elliott, the Windsor Essex County Air Quality Coordinator, asked former committee members to submit their suggestions and recommendations by Tuesday, December 3, 2002.
The Citizens Environment Alliance is issuing this notice because we believe that the City and the County need to seek broader input from the public and interested health care service providers, etc.
"Unfortunately, the December 3rd deadline does not give the public much time to respond," said Shawn Hupka, Executive Director of the Citizens Environment Alliance. "Hopefully people will see this announcement and contact the City or County at once."
For more information contact:

Shawn Hupka
Executive Director, Citizens Environment Alliance
(519) 973-1116