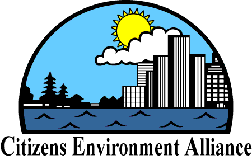 December 2, 2002
FOR IMMEDIATE RELEASE
Climate Change Issue at Windsor City Council Tonight
Windsor, Ontario - While the Federal and Provincial Governments continue to debate the ratification of the Kyoto Protocol on Climate Change, the City of Windsor is poised to take action on the issue tonight.
Paul Gregory of the Federation of Canadian Municipalities Partners for Climate Protection (PCP) Program will be in Windsor today to encourage the City of Windsor to join the PCP.
"I totally support this initiative," said Councillor Joyce Zuk. "If we have to develop a new strategy for funding this - so be it. Why wouldn't we want to provide a cleaner environment for the citizens..." she continued.
The Federation of Canadian Municipalities and the International Council for Local Environmental Initiatives have established Partners for Climate Protection Program to help Canadian municipalities prepare and implement local climate action plans. PCP directly supports community sustainable development across Canada. PCP members follow a "milestone" process for achieving tangible reductions in local greenhouse gas emissions; the same emissions that cause smog.
Join Paul Gregory for a Special Public Presentation today,
Monday, December 2nd -- 10am in City Council Chambers.
"We've already recommended that the City of Windsor join the PCP Program and work for meaningful air pollution reductions," said Shawn Hupka, Executive Director of the Citizens Environment Alliance. "With the ratification of the Kyoto Protocol imminent, the time for Windsor to join is now."
The City of Windsor will be encouraged to join the PCP at its regularly scheduled City Council meeting today at 6pm (see Council Agenda Index, Part IV "Miscellaneous" Item #12: Partners for Climate Protection, Sustainable Communities and Environmental Policies).
Ninety-nine municipal governments in Canada are already members of the Partners for Climate Protection and have committed to working towards reducing greenhouse gas emission in their municipal operations.
For more information contact:
Paul Gregory, Information Officer, Sustainable Communities and Environmental Policy, Federation of Canadian Municipalities at 613.241.5221 (Ext. 291)
Shawn Hupka, Executive Director, Citizens Environment Alliance at 519.973.1116
Canadian municipalities already in the PCP include: Calgary, Edmonton, Yellowknife, Whitehorse, Vancouver, Halifax, Moncton, Winnipeg, Montreal, Quebec City, Regina, Barrie, Brantford, Burlington, Collingwood, Guelph, Hamilton-Wentworth, Kingston, Kitchener, London, Mississauga, Ottawa, Peterborough, Sudbury, Thunder Bay and Toronto.