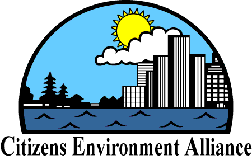 December 3, 2002
FOR IMMEDIATE RELEASE
Shawn Hupka Steps Down As Executive Director
Windsor, Ontario - Shawn Hupka is leaving the Citizens Environment Alliance (CEA) after almost three years of service as Executive Director. "I will always cherish the time that I've spent with the CEA," reported Hupka.
Hupka and partner Sarah Atkinson will return to Asia to pursue careers in teaching and writing.
"He was a real pillar of strength after Ric Coronado suffered his stroke," stated Lisa Tulen, President of the Board of Directors for the CEA. "He kept the organization running during a very difficult time. He is a person that lives by example and will be greatly missed in a community he obviously cares very much about. We all wish him the best in his future adventures."
Leesa Bringas, formerly the CEA Green Spot Recycling Coordinator will step up to the position of Director of Development and Administration. Longtime CEA Researcher Derek Coronado will assume the duties of Director of Research and Policy.
"Although Shawn will be missed, we're confident that Derek and Leesa can help us continue to address the important environmental issues that face this region," stated Lisa Tulen.
Hupka will continue to work with the CEA until the end of this year.
For more information contact:
Shawn Hupka, Outgoing-Executive Director, 519.973.1116
Leesa Bringas, Director of Development and Administration, 519.973.1116
Derek Coronado, Director of Research and Policy, 519.973.1116
Lisa Tulen, President of the Board of Directors, 519.253-3000 (ext. 4764)