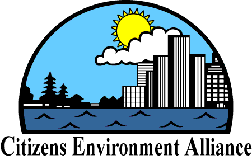 December 6, 2001
FOR IMMEDIATE RELEASE
Pegasus Plastics Gets Permit to Pollute
Windsor, Ontario -
Ministry of the Environment Negligent in protecting Public Health
The Ontario Ministry of the Environment has quietly issued an air pollution permit to Pegasus Plastics that could see more than ten tonnes of harmful pollutants discharged directly to our air.
The Pegasus Plastics operations are at 6680 Hawthorne, Windsor.
According to the Ministry's approval for discharge, Pegasus Plastics….
is installing a parts washer, 3 paint spray booths, a gas fired baking oven for the application of spray painting plastic parts and curing paint on the parts. Paint and solvent emissions are exhausted to the atmosphere. The facility will have potential to emit 8-9 tons per year of volatile organic compounds and 1-2 tons per year of particulate matter.
In a letter of objection (attached) to the then proposed permit, Ian Naisbitt President of the Little River Enhancement Group, wrote,
"Smog is made up of fine particles and ground level ozone, which forms when nitrogen oxides from cars mix with volatile organic compounds in solvents and fuels. The Environment Ministry asks Essex County residents to park their cars, avoid mowing lawns and reduce electricity consumption." Why would the Environment Ministry ask residents to do that and then allow Pegasus Plastics to emit 8-9 tons of VOCs per year? It is ludicrous to allow more poisons into the air, while asking residents to curtail their activities to benefit the quality of air in Windsor Essex County.
"The Ontario Ministry of the Environment has proven, yet again, that they cannot be trusted to safeguard our natural environment nor public health," said Shawn Hupka, President of the Citizens Environment Alliance.
For more information contact:
Shawn Hupka
President, Citizens Environment Alliance
(519) 973-1116