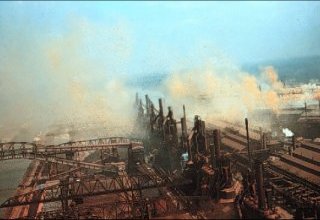 Pollutants discharging into the air we breathe
In Canada, the National Pollutant Release Inventory (NPRI) is the only legislated, nation-wide, publicly accessible pollutant inventory. There were 268 substances listed in the NPRI for the 2000 reporting year; 55 substances are designated toxic by the Canadian Environmental Protection Act. The National Pollutant Release Inventory has been published annually since the program's inception in 1992. To go to the National Pollutant Release Inventory website, click here.
You can report environmental problems, spills, discharges, etc. to the Ministry of the Environment and Climate Change 519-948-1464 or the Spills Action Centre 1-800-268-6060.
The NPRI is based upon the U.S. Toxics Release Inventory (TRI). The TRI was established by the Emergency Planning and Community Right-to-Know Act of 1986, it was expanded to include more data by the Pollution Prevention Act of 1990. Currently, there are approximately 650 pollutants and pollutant categories in various industrial sectors and federal facilities tracked by the TRI. To view the Toxic Release Inventory web site go to: www.epa.gov/tri.
The goals of both the NPRI and the TRI are to empower citizens, through information, to hold companies and governments accountable in terms of the management of pollutants. The active dissemination of the contents of these inventories to the public is vitally important for the efficacy of the inventory process.
Our most recent report, published in May 2002, is the fifth review of NPRI data published by the Citizens Environment Alliance (CEA) and the first to combine NPRI data for Essex County with TRI data from Wayne County. Three primary sources of information were used to complete the report: Taking Stock '98 - North American Pollutant Releases and Transfers; the Toxic Release Inventory Database of 1999, and; the National Pollutant Release Inventory database of 2000. These sources were the most up-to-date inventories available when our analyses began in January 2002.
---

Bruce Power's proposed plan to ship steam generators to Sweden
Despite a one-year license granted by the Canadian Nuclear Safety Commission (CNSC), the fight to stop Bruce Power from shipping 16 decommissioned steam generators through area waterways is not over.
May 6, 2011: Bruce Power withdraws US application for a license to package or transport steam generators under special arrangement. Read full release.
February 15, 2011: 15 facts that Citizens need to know about Radioactive Steam Generators. Read full release
February 7, 2011: Enviromentalists vow to stop shipment of radioactive waste. Read full release
October 18, 2010: Notice of application by Bruce Power for a license to transport steam generators. Read full release
July 29, 2010: Notice of Public Hearing. Read full release
---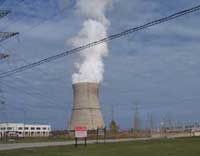 Environmental Coalition Continues Challenging "Radioactive Russian Roulette" at Davis-Besse

The environmental coalition battling against the 20 year license extension proposed at the problem-plagued Davis-Besse atomic reactor near Toledo, Ohio has filed a supplement to its cracked concrete containment contention.
November 5, 2012: Hearings on the Davis-Besse nuclear reactor license extension. Read full release
July 16, 2012: Environmental Coalition Bolsters Case Against Davis-Besse. Read full release
March 28, 2012: Nuclear Regulatory Commission Violates Its Own Environmental Protection Mandate - Rejects Consideration of Renewables as Alternative to Davis-Besse License Extension Read full release.
January, 10 2012: Environmental Coalition Challenges Davis-Besse License Extension on Shield Building Cracks: Groups Cite Problem as Final Straw Regarding Safety Risks at the Problem-Plagued Reactor. Read full release.
May 9, 2011: Citizen groups win a victory in fight against Davis-Besse atomic reactor extension: NRC Licensing Board recognizes standing, grants hearing on renewable alternatives and severe accident risks. Read full release.
April 20, 2011: Fukushima Fallout: 45 Groups and individuals petition NRC to suspend all nuclear reactor licensing and conduct a "credible" Three Mile Island-style review. Complete details Petition Review
March 16, 2011: Davis-Besse opponents, "It can happen here." Read full release
March 1, 2011: Environmental Coalition Challenges Davis-Besse License Extension - Wind and Solar Capable of Replacing Nuclear Power - Severe Accident Consequences Not Considered. Read full release
February 1, 2011: Environmental coalition defends its challenge against "radioactive russian roulette". Read full release
December 30, 2010: Environmental Coalition Challenges "Radioactive Russian Roulette" of 20 Year License Extension at Davis Besse. Read full release
---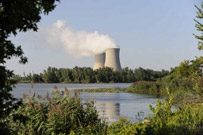 Proposal to Build Fermi 3

The CEA and other environmental organizations have submitted written responses to the Nuclear Regulatory Commission regarding DTE's proposed Fermi 3 Nuclear Reactor in Michigan.
October 30, 2013: An Atomic Safety and Licensing Board (ASLB) will hold a hearing Oct. 30 in Monroe, Mich., concerning a challenge by several environmental groups to the Combined License application for a new nuclear reactor at the Fermi site in Monroe County, Mich. The ASLB is the independent body within the NRC that conducts adjudicatory hearings and renders decisions on legal challenges to licensing actions. Complete details.
March 18, 2013: Final Impact Statement Comments focusing on water. Read submission.
February 20, 2013: Fermi 3 Final Environmental Impact Statement Incomplete. Fermi 3 Interveners Reveal Major Inadequacies of Environmental Impact Statement – Concurrently the NRC Announces Major Delays in Safety Evaluation Review -- Major Setbacks Projected. Read full press release.
January 18, 2013: Final Environmental Impact Statement (FEIS) for Fermi 3 was released. The public has sixty days from the release date to comment on the proposal. This FEIS will be the last opportunity to express opposition to the proposed Fermi 3 nuclear plant under the National Environmental Policy Act. The FEIS four volume set total of 2320 pages is available at http://www.nrc.gov/reading-rm/doc-collections/nuregs/staff/sr2105/.
February 2, 2012: New Report shows increase in cancers and mortalities since Fermi 2 nuclear plant start up. Read full release
October 28, 2011: The draft EIS (Environmental Impact Statement) for the Fermi Unit 3 Combined License (COL) Application, Construction and Operation of a Power Reactor posted on the U.S. federal register.

Available in two volumes:
http://www.nrc.gov/reading-rm/doc-collections/nuregs/staff/sr2105/v1/index.html
http://www.nrc.gov/reading-rm/doc-collections/nuregs/staff/sr2105/v2/index.html
May 23, 2011: Environmental challenges against proposed new Fermi 3 atomic reactor survive: Licensing board allows endangered species and toxic algae contentions to proceed to hearing stage. Read full release.
June 17, 2010: NRC ASLB to hear testimony and to investigate allegations on safety significant quality assurance violations at proposed Fermi III reactor. Read full release
May 19, 2009: How Safe is Your Energy? What Michigan Citizens Need to Know about Local Nuclear Power Plants. Read full release.
April 13, 2009: Environmental coalition challenges new reactor at Fermi complex: Groups cite clean alternatives to radioactive risks to Lake Erie. Read full release.
March 10, 2009: Environmnetal coalition files fourteen legal contentions against Fermi III atomic reactor. Read full release.
February 8, 2009: The "Dirty Dozen" reasons to block the proposed Fermi 3 atomic reactor. Read full release.
Check out the website of the international coalition to stop Fermi 3.
Environmental contentions filed against proposed Fermi 2 life extension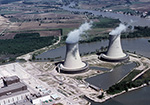 A coalition of environmental groups, including the CEA, have officially intervened against the application by DTE (Detroit Edison) to extend the operating license at its Fermi 2 atomic reactor for an additional 20 years, to 2045. Two of the contentions concern high-level radioactive waste, and two are about reactor risks.The coalition has issued a press release about its intervention and contentions opposing Fermi 2's license extension. View press release.
---

Review of Nuclear Waste Law Required - National Alliance Calls for Major Changes in Decade Old Nuclear Fuel Waste Act

On the 10th anniversary of a controversial law coming into force that could permit the burial of highly radioactive nuclear waste, a broad alliance of over thirty health, environmental, community and faith groups has issued an open letter to communities being studied as possible burial sites and is calling on the federal minister of Natural Resources to review the Nuclear Fuel Waste Act and to direct the Nuclear Waste Management Organization to be more open and accountable.
Read press release. Visit Nuclear Waste Watch. NWW position statement.
---
CEA Submissions

Canadian Public Interest Organizations Seek PM's Commitment to Support the Global Elimination of New POP's Chemicals (April 2009)

2009 Letter to EPA Administrator Jackson Regarding Saginaw Bay Contamination (January 2009)

Domestic Substances List Inventory Update: Scope and Process (December 2008)

Submissions to the Ontario Ministry of the Environment on Creating Ontario's Toxics Reduction Strategy Discussion Paper (EBR Registry No. 010-4374) (October 2008)

Toxic-Free Ontario Campaign (August 2008)
---
Toxic Inventory Reports

1999 and 2000 National Pollutant Release Inventory (NPRI) and the 1999 U.S. Toxics Release Inventory (TRI) : A Summary Report (April 2002)

1998 National Pollutant Release Inventory (NPRI) Summary Report (March 2001)

1997 National Pollutant Release Inventory (NPRI) Summary Report(February 2000)

1996 National Pollutant Release Inventory (NPRI) Summary Report (September 1998)

1995 National Pollutant Release Inventory (NPRI) Summary Report (January 1998)