Jarvis: 'We do not have the luxury of time'
The biggest effect of climate change in Canada is flooding — "too much water in the wrong places," says University of Waterloo Prof. Blair Feltmate, chair of a new federal government panel on adapting to climate change. And most cities aren't prepared.
ANNE JARVIS, WINDSOR STAR
Published on: September 15, 2017
Last Updated: September 15, 2017 5:03 PM EDT
The sky burst over Burlington in 2014, swamping the city with 185 millimetres of rain in eight hours. Thirty-five hundred homes flooded. There was more than five feet of water in Mayor Rick Goldring's basement.
Today, Burlington doesn't wait for residents to call 311 or apply for a sump pump subsidy. It sends inspectors to their homes to advise them to get their property assessed for flood risks.
A storm poured 126 mm of rain on Toronto in 2013. More than 4,700 homes flooded. Since then, the city has carved ponds and a wetland into five parks and created green spaces in boulevards, intersections and parking lots, all to absorb water or release it into sewers slowly.
Kitchener didn't have enough money for storm water infrastructure. So it started charging property owners based on the amount of impermeable surface on their property. If you have a humongous parking lot that sends runoff into sewers, you pay more. If you have green space to absorb water, you pay less. You can reduce the amount you pay by reducing runoff with rain barrels, rain gardens, permeable pavement and other measures.
The biggest effect of climate change in Canada is flooding — "too much water in the wrong places," says University of Waterloo Prof. Blair Feltmate, chair of a new federal government panel on adapting to climate change. And most cities aren't prepared.
"You'll hear from city engineers, from mayors, 'Nobody can be prepared for this magnitude of storm,'" he said. "Yeah, you're still going to get damage, but on the periphery, you can certainly attenuate the costs. It's far, far cheaper to adapt."
Said Coun. Irek Kusmierczyk, who had a list of questions for city staff after the latest flood here, "I heard loud and clear residents want us to go further, much further. They want us to look at both conventional solutions — sewers — but also unconventional solutions and best practices."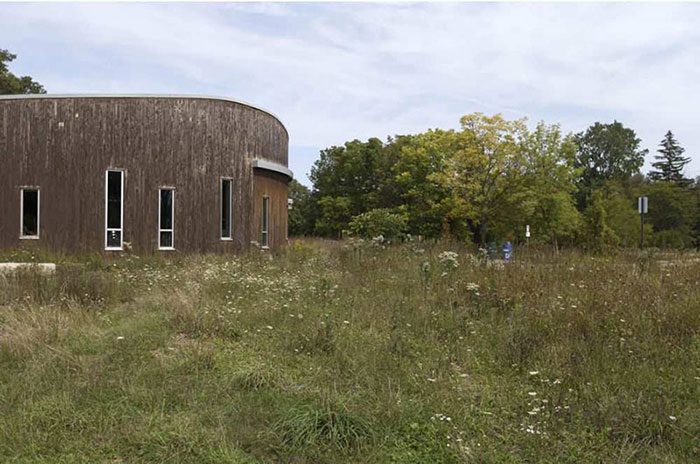 A rain garden is pictured at the Ojibway Nature Centre on Sept. 12, 2017. © DAX MELMER / WINDSOR STAR
Windsor spent a record $273 million on sewers between 2009 and 2016, more than double what it spent the previous eight years. It's mapping the city's sewers, identifying problems and developing a master plan to solve them. It offers free and subsidized measures for homeowners, from disconnecting downspouts from sewers to installing sump pumps.
Yet there have been more than 6,100 reports of flooded basements since the storm that dumped more than 200 mm of rain on the city last month.
A new eight-point plan will consider making it mandatory to disconnect downspouts, pay the entire cost of sump pumps and backflow valves, expedite sewer replacement along part of Riverside Drive and expedite the master plan, among other measures.
"We're doing absolutely everything we can," Mayor Drew Dilkens has said.
We're doing a lot of things right, said Kusmierczyk, but he said: "You realize when you see what other cities are doing how much more we could be doing."
Windsor and Burlington both offer home inspections and subsidies. Here's the difference: Burlington offers a 50-point assessment covering not only sewer back-ups and overland flood risks but how to reduce moisture that causes mould and mildew, reducing damage to contents, managing water on your property, insurance, a helpline, follow-up with the inspector and maintenance reminders.
The biggest difference is that Burlington doesn't wait for residents to ask. It sends inspectors door to door introducing the program. They hope to reach 4,000 homes.
"All the programs in the world are no good if people are not taking advantage of them," said Goldring, whose city is spending $50,000 to subsidize the inspections and obtained $237,000 from the provincial government.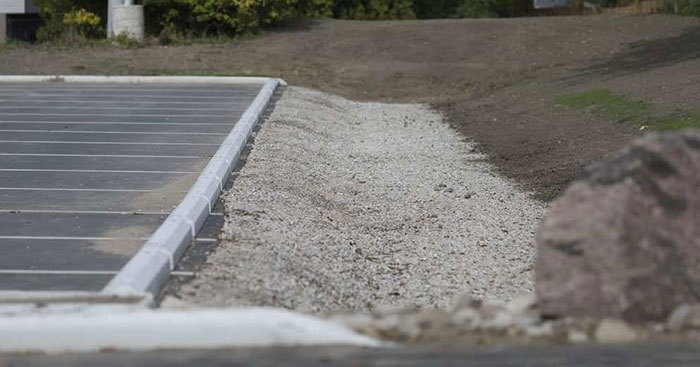 A newly constructed infiltration trench is pictured in the parking lot of the South Windsor Arena on Sept. 12, 2017. © DAX MELMER / WINDSOR STAR
Of the 6,100 people in Windsor who reported flooded basements, "the vast, vast majority said they haven't taken advantage of the program," said city engineer Mark Winterton. Even after the city advertised it extensively and hired more inspectors.
An average of only four to seven per cent of people in Canada use these programs.
But about 30 per cent of residents in Burlington are getting inspections — even though they cost $125. A homeowner make many of the recommended changes in a weekend for several hundred dollars and reduce the chance of flooding from 80 per cent to 20 per cent, said Feltmate, whose Intact Centre for Climate Adaptation at the University of Waterloo is researching the impact of the program.
Five years ago, Windsor was one of the first cities its size to approve a climate change adaptation plan. It called for a green roof policy, enhanced green space, more trees, rain gardens, testing porous pavement and disconnecting downspouts, all to better handle water from intense storms.
Today, there are green roofs on several municipal buildings, including the new city hall, but no policy. A 15-square-metre rain garden is being tested at Ojibway Nature Centre. The city plants 2,000 more trees a year, though there's no tree-cutting bylaw. A new, infiltration trench will capture additional runoff from the expanded parking lot at South Windsor Recreation Complex. An infiltration trench and dry ponds have been added at several parks. There are storm water ponds in south and east Windsor. Disconnecting downspouts still isn't mandatory.
Solutions in other cities don't always work here. Water doesn't easily flow through Windsor's mostly hard, clay soil. Still, "we're very much in the early stages of this," admitted Winterton.
"I don't think green infrastructure is taken seriously," said Derek Coronado of the Citizens Environment Alliance. "There's a lack of knowledge about green infrastructure."
It won't replace sewers, he said. But our sewers, even new ones, can't handle these storms alone.
"We have to do more than just traditional methods," he said. "How many floods do you have to go through before you use every tool at your disposal?"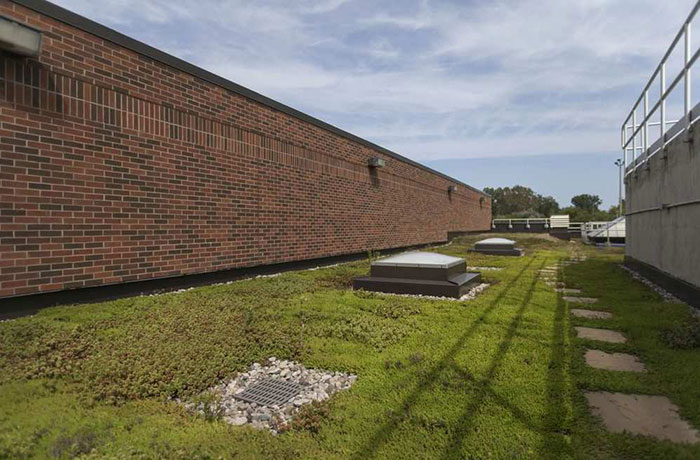 The green roof at the Lou Romano Water Reclamation Plant is pictured on Sept. 12, 2017. © DAX MELMER / WINDSOR STAR
One of the main reasons basements flood is we've paved over our cities, leaving no place for the deluge to go. The cheapest way to help address that is protecting and enhancing remaining green space. Leaving natural wetlands in urban areas can reduce the cost of flooding more than 38 per cent, according to a University of Waterloo study.
Kitchener believes it's only fair that property owners pay for the amount of storm water they send into sewers.
"The municipality will do as much as we can on municipal infrastructure, but there's a lot of private property. They're either contributing to the problem or contributing to the solution," said storm water utility manager Nick Gollan. "What we're trying to do is have an incentive to encourage property owners to contribute to the solution. That's the only way we're going to have a real impact across the whole city."
The average homeowner's fee is only $12.50 a month and pays the entire cost of storm water management.
Kitchener and Waterloo were the first cities to do this, in 2010. It wasn't easy. People called it a "rain tax." Kitchener got 300 calls a day at first. Now, the city is considering offering grants to offset the cost of measures like permeable pavement for driveways.
And more cities are following. Mississauga is the latest.
"As climate change continues to take its toll, people are paying more attention to it," Gollan said. "I've been talking to cities from Victoria, B.C to Halifax, Nova Scotia picking my brain on this."
Like most Canadian cities, Windsor's flood plain maps, showing where water from a big storm will go, are also decades out of date, done in the late 1970s and early 1980s and updated in 1991. The city — and weather — have changed.
"We need to know, when big storms hit, where the water is going to go," said Feltmate. "Right now we're driving blind."
But mapping a watershed like Turkey Creek can cost $1 million. Neither the Ontario government nor municipalities, which fund conservation authorities that conduct mapping, have provided enough money.
"Zero-based budgeting does not allow for these works to proceed," said Tim Byrne, the Essex Region Conservation Authority's watershed management director.
Feltmate believes cities should have not only a "chief resiliency officer" to lead adaptation to climate change but undergo external audits every five years to determine if measures are being established. Can smaller cities afford that?
"It could save you hundreds of millions of dollars," he said.
The cost of repeated flooding is far more than the $175 million to homes in Windsor this time. The impact on homeowners' mental health is "enormous," said Feltmate. Every time it rains, people get up in the middle of the night to check their basements. They're afraid to leave their homes during the day.
"They're scared to death water is going to come flowing up," he said.
This isn't just a problem for those whose basements flood. Cities across Canada have growing sectors of homes that are uninsurable for floods, said Feltmate. Almost half of Canadians have only one month of disposable income. Flooding causes an average of $42,000 in damage to a basement.
"It's reasonable to predict we're going to see a spike in mortgage defaults," he said.
He has joined with a large commercial bank to study mortgage defaults after floods in 20 cities in Canada. Windsor is one of those cities. Because some homeowners can't get flood insurance and the city has suffered two major floods in a year, "you're in the equation to see people potentially default on mortgages," he said.
In cities like these, there's potential for property values to fall and for the city to no longer be an attractive place to live or start a business.
"We do not have the luxury of time," said Feltmate. "We have to get on with adaptation immediately. It (the effects of climate change) is here, and it's going to get worse. The science is abundantly clear."
© Copyright (c) The Windsor Star
http://twitter.com/winstarjarvis